'70 Chev Tow Truck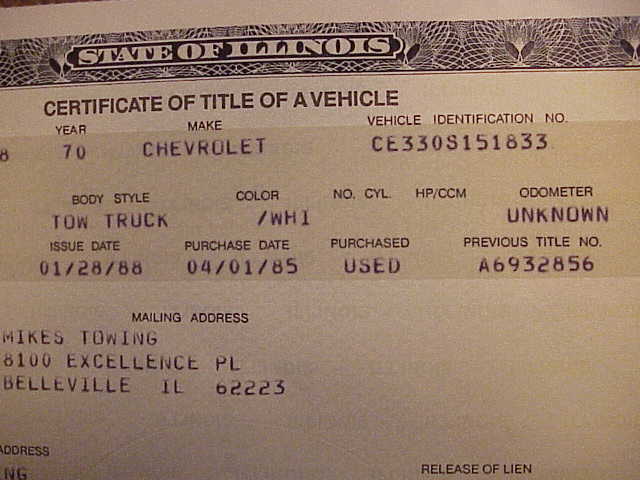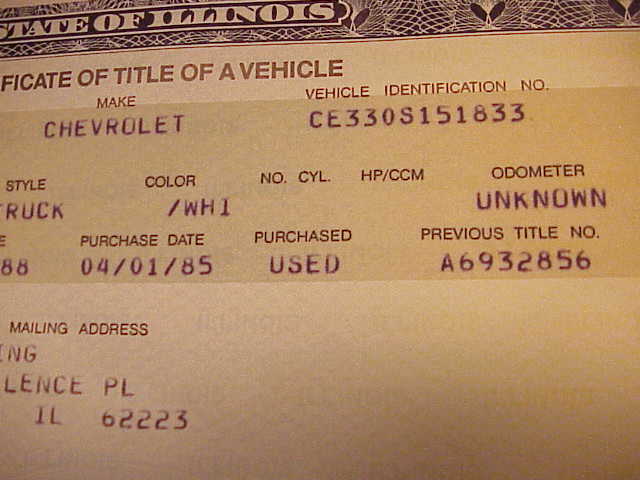 Contact D. Fries if you are interested in the '70 Tow Truck.
1991 GMC
"SYCLONE"
!!! Click on a image link below to view the larger picture !!!
See description below!
Description:
This special edition truck (less than 3,000 built) was bought new in 1991 by my friend's father who paid $28,000 for it. It will have less than 11,000 miles on it when you get it. It has never been in bad weather, it has always been babied and maintained. The original owner died 2 years ago and his son inherited it and has now decided to sell it as he feels it's just too nice for him to drive. He will use the money to buy a new heavy-duty, full sized work truck (this Syclone has never been used as a truck, only as a Sunday driver).
The owner just put on a new set of premium 16-inch original style tires.
Totally original under the hood and inside.
You will not find a more pristine, well cared for, low mile example of this high performance special edition truck.... at least not one for sale!!
These trucks were built with the 4.3 turbo-charged V6. They have full time 4-wheel drive.
Hope you can tell this truck is black on the outside and it's black with grey velour on the inside (totally factory).
Of course, all original manuals and documentations are included.
This will be a 10-day auction with a reserve price.
Any questions, please email directly to us. Vehicle is located in Illinois, 10 miles east of St. Louis, Missouri. It has a clear Illinois title.
Successful bidder will have 7 days to pay 10% down and up to 2 weeks to pay the balance in certified funds. If when you inspect the vehicle within this 2 weeks period and it isn't what we have represented to be, the 10% will be refunded! More than 2 weeks can be arranged for your pick-up or for shipping, but after 2 weeks, the 10% will not be refundable.
Disclaimer: Seller reserves the right to consummate a sale (or trade!) prior to the closing of this auction. So, if you have a late model work truck and cash, interesting trades, or just won the lottery and you want this right now, send us a proposal!!
PS: Remember that this truck belongs to one of my best friends who doesn't do computers, so there could be a couple day time lag if I need to consult him for any answers to your questions. I will be getting a few pics of the underhood area posted in a few days. Have patience, it is busy here right now!! Interesting/dollar value trades are being considered and anyone wanting to fly into St. Louis, with a briefcase full of cash, will be greeted and treated to an interesting visit then guaranteed, trouble-free drive home in your new Syclone!!

PSS: I have a few cars of my own that I have decided to sell after many years of owning/driving them. Cash or interesting trades considered. Cash really talks right now for me though as I am in a liquidating mode finally. (If you know how to do concrete foundation work or wooden deck construction then your labor could get you some of these items, my items, not the Syclone!)

My surplus vehicles are: #1: a '57 Plymouth 2dr Hdtp (like "Christine") 70K original miles, many spare parts #2: '64 Cutlass convertible, factory 4 speed car, needs full restoration but I have all the parts, cheap , #3: '69 Corvette cpe (project car, parts missing, not original), #4: '36 Chev truck body sitting on 10 wheel drive army chassis (also an extra '36 chev truck body to put on late model chassis), #5: '55 & '54 Ford F-350's (real cheap!!), #6: 1950 Holmes recovery boom on a dead '52 ford truck (REAL cheap), #7: 1980 Suzuki 850 shaft drive, $500 or trade, #8: '78 Ford F-250 work truck with ladder rack, good 429 mtr, $400 and drive it home, #9: '77 280Z, 5sp, factory mags, bill of sale (lost title) $500
Email: JamaicaWI@aol.com